Joan Carchedi
Fundraising and office volunteer (2010-present)
One Heartland Founder Neil Willenson brought some campers to my place of work to share their stories. Having been diagnosed with HIV in 1992, I connected with them right away. There was no permanent camp yet. My employer sponsored and supported Camp Heartland for several years. I became very involved volunteering for fundraising events, such as the Heart and Soul Concerts.
_ _ _
JoJo Turtle-Morales and Aysha Turtle
Camp participant (2013-present) and participant mother (2004-present)

JoJo started going to camp when he was 7 years old. He really wanted to go because his older brother and sister had attended Camp previously. Both of them had come home with stories about how great it is. I (mom) found out about the camp through NM AIDS services years ago when they still had funding to reach out to people with HIV. The agency has had to downscale quite drastically the past few years. Other HIV positive parents may not even know about the Camp opportunity.
_ _ _
Nile Sandeen
Camper and Leader-In-Training, 1993-99, 2001-02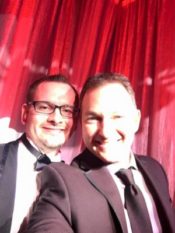 Neil founded the camp after meeting my family and seeing the difficulty it was for HIV+ children to both deal with stigma in their daily life and to have normal childhood experiences like attending summer camp. My brother and I were the first campers to be registered. Neil dubbed me "Mr. Campheartland" (a term that massaged my young ego wonderfully). Thus I became a regular camper throughout my childhood, and also spent many days of my childhood participating in the Journey of Hope program, speaking at businesses, but especially schools and universities all around the country (though mostly in the Midwest). One Heartland was, therefore, a significant part of my childhood, not just in the summer (or the brief winter sessions they used to have), but throughout the year. I also ended up spending many hours at the old Camp office which was located in Milwaukee where I lived.
_ _ _
Neil Willenson
Camp Founder, CEO, and Resident Noodle from 1993-2010
My life changed profoundly in 1991 when I met 5-year-old Nile Sandeen and his big brother, 7-year-old Sean. After witnessing the slings and arrows of HIV discrimination, cruelty and sadness, I was motivated to help create Camp Heartland, a true safe haven for children like Nile and Sean who were affected by HIV and AIDS.